June 16, 2020
Dear Parents and Caregivers of 2020 EIBC Youth Campers or Potential Youth Campers,
The EIBC board of directors met on Monday June 15th and approved what is outlined in this update. Please read the text of this update carefully.
As you all know, these are unprecedented times we are living in. Here at EIBC, we have worked diligently to keep summer camp a go. In the remainder of this message I want to lay out OUR PLAN on how we are going to navigate our 8 youth camping sessions starting on July 1st. If you have any questions, feel free to contact me by sending an email using the contact form at the bottom of the home page or you can call the office Monday through Friday 8:30-5.
First and foremost (this might be the most important part): We will be implementing several reasonable measures to try and help reduce the risk of transmission of COVID-19 at our facility that I will outline next. However, please consider this as you make the final choice to send a child to camp: If you are looking for 100% certainty that your child will not get sick at camp or related to camp activities, this might be the summer for you to voluntarily hold your child out until the summer of 2021 even if you already have them signed up. It is also important to consider not sending your child if they are at higher risk for more severe illness or might return home after camp and expose someone with the following: over 65, underlying medical conditions, compromised immune system, severe obesity, diabetes, chronic kidney or liver disease. If you choose to hold a child out for this summer, we will refund all of your registration costs and fees 100% at your request.
Following guidance from the Iowa Department of Public Health, here are the general actions we will be taking to help lower the risk of transmission at our facility:
Prescreening. There is a link at the end of this paragraph for you to review and print the prescreening document.  Please be aware we will be following this document to the letter. We ask that you print this out and bring it with you filled out before you arrive on your registration day.  Temp checks will be performed by our first-aid staff only on the campers while they are still in your car with a touchless medical grade thermometer.  Our staff will be held to these same standards. Prescreening Document
Please limit the amount of people in the car for drop off and pickup to the minimum amount of people possible.  Ideally, one parent, and only the camper(s) you are dropping off or picking up.  Please make arrangements to follow this to the best of your ability.
Registration will be held outside and we will be working diligently to make sure all paperwork is in place before you arrive so your wait time is as minimal as possible (more details on this will come in an email that will go out the week before each session to the parents/caregivers of that specific session).
We will be performing daily temp checks on all campers and staff
Any staff or camper who exhibits any of the symptoms described on our prescreening questionnaire while camp is in session will be sent home.  
We will be performing advanced cleaning/disinfecting of our facilities before each session AND throughout each session especially high touch areas.
We will be educating our staff and campers on good hygiene practices and encourage frequent hand washing and hand sanitizer especially before and after eating, after using the restroom, and after blowing their nose, coughing, or sneezing.  
We will post good hygiene signage in all of our bathrooms and wash areas.
We have reduced our overall camper capacity for each session to 100 maximum.  
We will be practicing distancing during any indoor activities especially chapel and meals
We will not be offering anything buffet style in our dining hall.  In the past we have had salad bar and some breakfast bar options. This summer meals will be 100% prepared and plated for each child.  We will have healthy options to take the place of salad bar items.
Our public drinking fountains will not be used.  All staff and campers will need to have a clearly labeled personal water bottle they can fill from our no touch water dispensing stations.
There will not be a final chapel service for parents and friends to attend to keep who is on campus as minimal as possible.  We plan for this to return in summer 2021.If a staff person or camper becomes sick, we have set aside rooms in our first-aid to isolate them until they can be picked up.
We will work with the Iowa County Department of Public Health and follow their advice on any potential outbreak of sickness.
If you have a child registered for one of our sessions, an email will go out the week before each session with specific and more detailed instructions of how to navigate registration and pick-up. You may also be hearing from us if you have an unpaid balance, missing forms (zip line release or medical release), or have not put money on your campers canteen account. We are going to try and have as many campers as possible completely ready to go for registration so drop off is quick and easy.
Please give us a little grace as we navigate these uncharted waters. Thanks for your understanding and we look forward to seeing you soon!
April 2, 2020
East Iowa Bible Camp Family,
During the summer at camp, we always have to be ready for a rainy day and sometimes even a rainy week. For some weeks now we have had coronavirus front and center in our minds. By now, we have all felt the impact of this crisis in some way. We find ourselves in a new circumstance none of us could have predicted. We are abundantly grateful to serve our Great God during these "rainy days." Psalm 46 is an awesome place to find encouragement with verse 10 feeling especially relevant: "be still, and know that I am God." During this tough season we feel strongly that the most responsible thing we can do at this time is three-fold:
Keep God front and center in the midst of this hardship
Protect our campers, staff, and their families
Preserve a summer camp program if at all possible
The camp board of directors met by tele-conference this week, and unanimously decided to make a shift in our summer schedule and plans. We are going to delay the start of our summer youth camping program to July 1st effective immediately. We considered several options at this point, but other options leave us more vulnerable to having to change our plans again and again adding potential frustration and confusion to parents, campers, and summer staff
We have made this decision now instead of delaying any longer for the following 6 key reasons.
We feel strongly that summer camp will be so much needed after kids have had their world upended this spring and this plan gives us the strongest chance of accomplishing that.
We want to be able to put as much space as possible between the peak of the infection rate and summer camp start date.
We can still staff our summer program with counselors, support staff, etc. if we make this decision now. The longer we wait, the higher likelihood we would not be able to keep our staff in place. We already have an awesome staff lineup, and we want to pass that blessing on to you!
The new schedule allows us to keep all 8 sessions in place allowing for as many campers to sign up as would have been able in a full summer.
This gives you time to make plans. If we were to wait to make this decision any longer, it will make it more and more difficult for as many of our campers as possible to take advantage of the new plan.
We can shift all of our internal planning to this model immediately and avoid scrambling to put together something that could leave us all feeling unprepared and frustrated.
New 2020 Summer Schedule (NOTICE that the 3rd, 4th, 5th, and 6th grade sessions are shortened)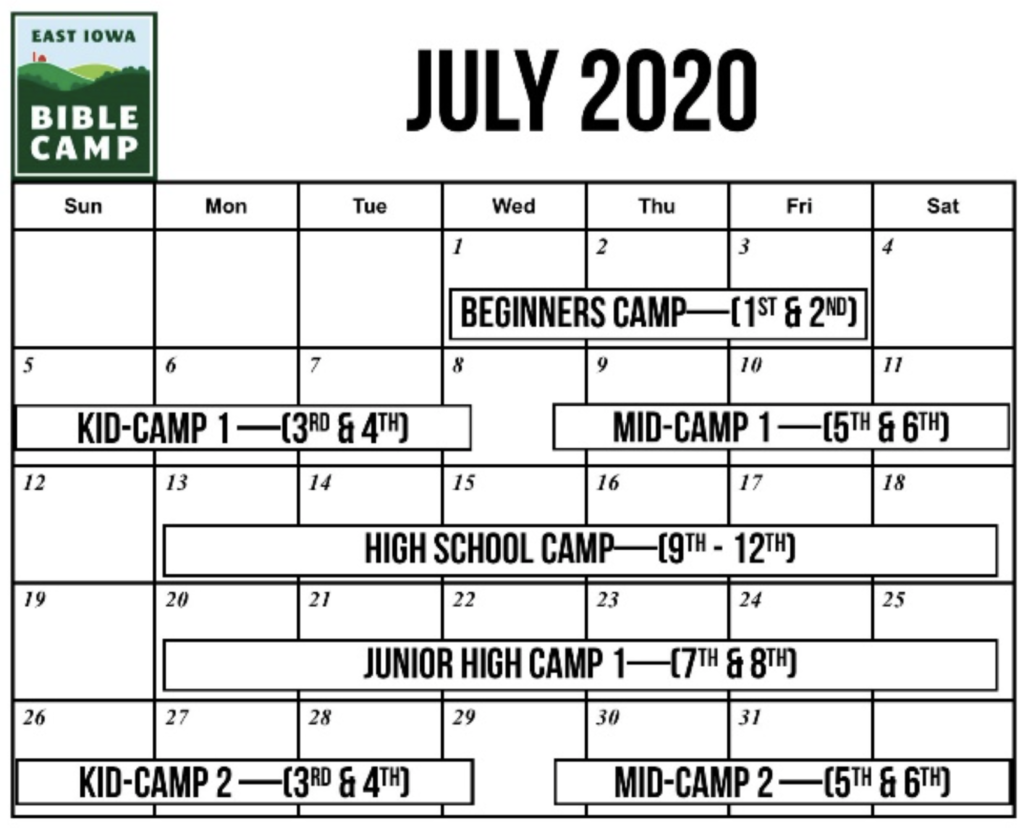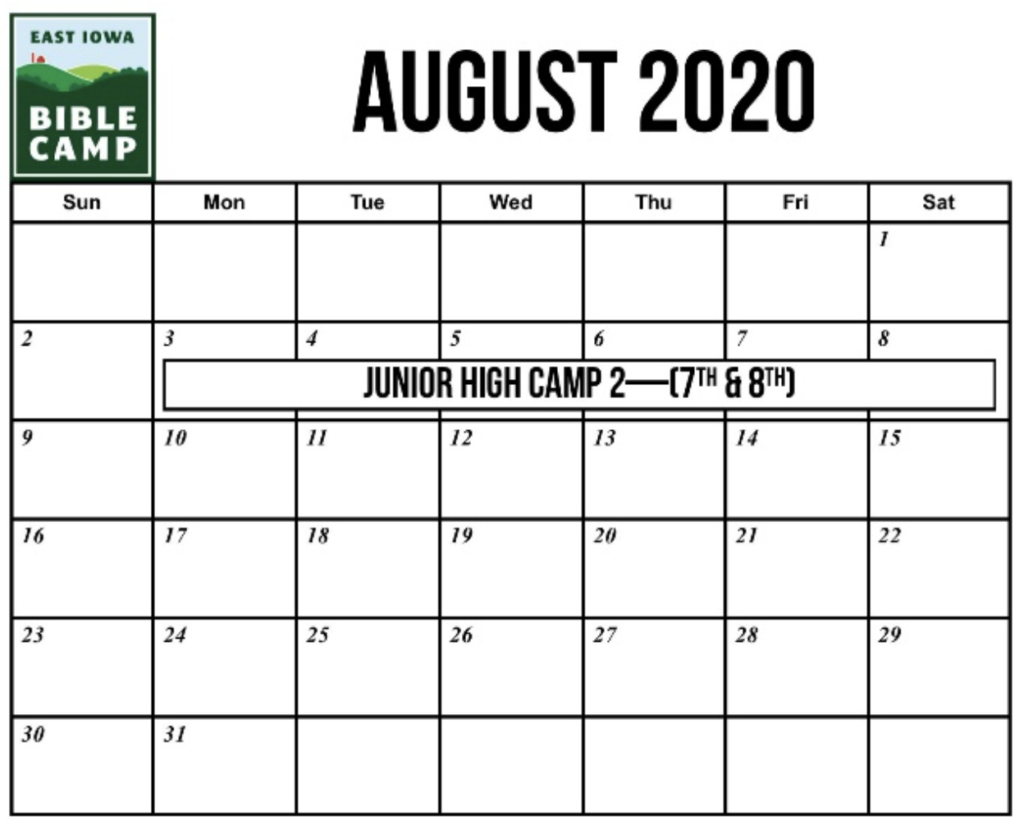 | | |
| --- | --- |
| July 1-3 | Beginners Camp |
| July 5-8: | 3rd and 4th (4 day/3-night session starting Sun. night at 5pm through Wed. 9am) |
| July 8-11 | 5th and 6th (4-day/3-night session starting Wed. night at 5pm through Sat. 9am |
| July 13-18 | High School |
| July 20-25 | 7th and 8th |
| July 26-29 | 3rd and 4th (4-day/3-night session starting Sun. night at 5pm through Wed. 9am) |
| July 29-Aug 1 | 5th and 6th (4-day/3-night session starting Wed. night at 5pm through Sat. 9am) |
| August 3-8 | 7th and 8th |
QUESTIONS AND OBSERVATIONS
What if I have already signed my camper up for a June session?
We will contact you directly to verify if you want to change your reservation.
What if I already have a child signed up for a July session?
If the week you signed up your child for didn't change, then your reservation will remain. If the week did change, we will contact you directly to verify if you want to switch your reservation. If you have a 3rd, 4th, 5th, or 6th grader, we will contact you directly to verify your preference of which ½ session you would prefer.
I haven't signed up my camper yet, what should I do?
All the new schedule and sessions are updated in our registration software. Go ahead and register your kids!
What is the cost?
The pricing structure for the full week camps and beginners camp will remain the same. The cost for the 4-day/3-night sessions will be reduced from $319 to $185. So, if you have a 3rd, 4th, 5th, or 6th grader, and have already paid in full we will refund $134 to you at your request. Those with churches paying a portion of your campers' tuition will be handled on a case by case basis.
How will the discounts work?
All discounts will remain in place, but the dates when the discounts expire will change. Best deal of $50 off PLUS the free summer themed t-shirt has been extended to April 30th. $50 off has been extended to June 1st.
What if I decide I want to cancel my kids camp reservations?
In light of this very unique circumstance, we will offer full refunds to anyone who requests them
What if camp cost has become an issue for me?
We understand that this season of life has caused financial hardships for many families. It is our desire for every child to participate in camp this summer. We certainly don't want finances to be the only reason a child doesn't attend. Please contact me by phone at 319-655-7693 or email me directly at andy@loveeibc.org and we will do everything we can to help.
What about Family Camp?
We will not be holding our regularly scheduled full week of Family Camp August 3-8 in order to accommodate our modified summer camping schedule. We are considering an alternative option to hold a 3-night family camp during the September Labor Day Weekend. More information to come on this as our plans come together.
---
March 19, 2020
East Iowa Bible Camp Family,
Like many of you, we have been keeping a close eye on the various cancellations and responses to the concerns over the Novel Coronavirus 2019 (COVID-19). At EIBC, the health and safety of our campers, families, staff, and community will take top priority. We are continuously monitoring the developments, heeding the warnings, and following the guidelines put out by the CDC and the Iowa Department of Public Health (IDPH). On Sunday evening March 15, the CDC updated its mass gathering guidance to postpone for the next 8 weeks any events with 50 or more people. On Tuesday March 17th, the Governor of Iowa issued a State of Public Health Disaster Emergency which until March 31st "prohibits mass gathering: social, community, spiritual, religious, recreational, leisure, and sporting gatherings and events of more than 10 people. Planned large gatherings and events must be canceled or postponed until after termination of this disaster."
Under current prohibitions and recommendations, we will not be hosting any scheduled retreats at our facility during this time.
With that being said, our summer season is still two and a half months away. This is a very fluid situation, but we are still preparing and moving forward with our summer camps as planned. The staff and board of directors of EIBC are monitoring this situation very closely and will continue to update you with our plans as new information is made available. We continue to pray that the Lord is already at work in each of our summer camper's lives, and HE will continue to guide us THROUGH THE UNKNOWN as this unfolds.
At the moment, this is something we are evaluating one day at a time. For today, please continue to register kids for summer camp and take advantage of our best deal in the month of March ($50 off plus a free summer themed t-shirt). Rest assured that if the changing conditions lead us to modify our summer schedule, we will offer full refunds to those that request them.
We ask that you join with us in prayer over each of the lives that will be impacted for Christ this summer as well as praying for our local, state, national government officials, healthcare workers, and all of those affected.
The leadership here has already had to talk through and make some immediate changes, specifically with our finances. The strong reality is that this event is going to impact us all significantly. We are so grateful to have our Great God taking care of our every need! If I may be straightforward, God might be calling you to be one of the ones to throw us the life line. If you can assist us in sustaining the ministry at this difficult time, please send in a gift today or go to www.loveeibc.org/donate
Bottom line…. God is in control and we trust He's got this! (Psalm 46:1, Philippians 4:6-7)
If you have any questions, please feel free to contact us.
Andy Gross
Executive Director
East Iowa Bible Camp